The secret recipe for a successful Incentive is a driving event in an open classic car in the incomparable backdrop of Tuscany. Wonderful weather, a magnificent landscape, little-used streets, rustic cuisine and world-famous wines round off the intense experience. Anyone who is allowed to experience such an incentive quickly becomes a regular guest with us and they experience first-hand that not all driving events are the same.
In a very small space, the sights of Tuscany are lined up like a string of pearls: Florence, stronghold of architecture and fine arts; Pisa with the famous leaning tower; San Gimignano, called the "Manhattan of the Middle Ages"; Volterra, whose Etruscan origins are still present today; and last but not least, Siena, the secret capital of Tuscany, which welcomes hundreds of thousands of visitors to the famous Piazza Il Campo every year. But Tuscany is not only a popular holiday destination worldwide, it is also an integral part of the agenda of meeting and event planners.
Picture book landscape as a backdrop for incentives
Additional points have to go to the picturebook settings. These are the geographical highlights and the excellent connections. For example, Florence Airport can be reached directly from most major European airports within two hours. From April to October Tuscany offers enough hours of sunshine to make your incentive a complete success. Especially when it comes to outdoor activities - whether golf, sailing or hiking - incentive trips are proven to be more efficient than payments in kind or in cash, and driving events shine among incentive trips because anyone with a driver's license can take part.
Driving events are the premier class of incentives
If, for example, golf is chosen as an activity for an incentive, the group is divided into two groups, which is already an issue: four-person courses for the players, and trial courses for those who are not familiar with golf. When in doubt, sharing groups is the best option on an incentive trip. In a driving event with Nostalgic, for example, all participants start at the same level and become a well-supported team during the event: the driver and co-driver share the experience along the planned route. One drives, and the other reads the route instructions in the road book. Two people in the car enable a direct exchange, build mutual trust, and subtly strengthen the loyalty of employees or customers.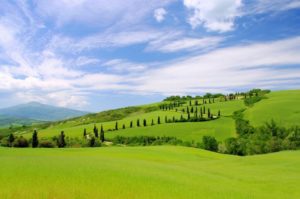 Winding country roads with little traffic, small villages and cypress avenues, Tuscany offers this and much more with its irresistible Italian charm. The automotive industry has always understood that Tuscany is a very suitable setting for a driving event and is happy to present the latest models here. Your incentive also gains value through the country and its people.
Classic car driving event as an exclusive incentive
The icing on the cake of every driving event is to explore unknown routes in an open classic car, to breathe and experience Tuscany. If you want to do justice to this landscape and also experience "Dolce Vita", feel like an Italian for a few days, we recommend the Alfa Romeo from the 1950s and 1960s. The models are recognized style icons and generate enthusiasm on both sides.
The drivers discover pure driving pleasure in the Alfa Romeo classic cars, the admirers on the roadside are enchanted. You don't necessarily have to put your top salesperson in the same vehicle with your most important customer to understand the personal closeness that comes with this unique driving event. Proximity is valuable in and of itself, which is the declared aim of every successful incentive. Other highlights to round off the program are in abundance: well-known wineries such as Banfi, Antinori, Ricasoli; Insider tips for regional Tuscan cuisine; Visits to monasteries, aristocratic palaces or castles away from the main tourist routes.