VW Käfer mieten – bei Nostalgic in München!
Das Kult-Auto mieten und Klassik-Feeling pur erleben:
Erkunden Sie im Miet-Oldtimer einen Tag lang München und Umgebung.
Leihen Sie den Oldtimer als Hochzeitsauto und erfüllen Sie sich einen Herzenswunsch.
Verschenken Sie Fahrfreude mit unserem Wertgutschein.
Unsere VW Käfer-Modelle zum Mieten
Mit dem VW Käfer 1200 Cabrio mieten Sie einen Oldtimer-Ausflug in die Vergangenheit. Lassen Sie sich vom chrom-glänzenden Käfer Cabrio und seinen stylischen Innenraum-Details zurück in die 50er Jahre versetzen: Als die Wirtschaft ihr wahres Wunder erlebte und die Leute das Leben bei Fahrten im offenen Cabriolet wieder so richtig genossen.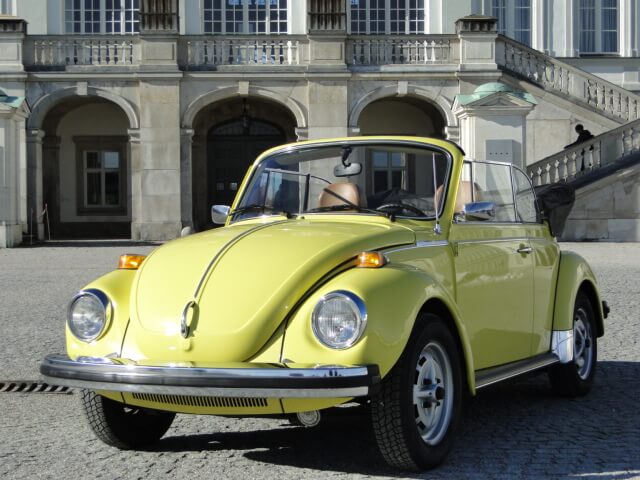 The VW Käfer 1303 Cabrio war damals das ausgereifteste Cabrio der Welt und als solches ein "natürlicher Bewohner vornehmer Wohngegenden". Mieten Sie mit diesem Oldtimer-Käfermodell das exklusive Fahrgefühl der Blütezeit dieses Käfer-Klassikers: Fühlen Sie sich wie die Bewohner in den noblen Villenviertel der 70er Jahre!
Erfüllen Sie sich Ihren Traum mit den Miet-Oldtimern von Nostalgic!
KÄFER MIETEN

VW Käfer selbst fahren
Einen Tag lang München und Umgebung erkunden
Sie wollten schon immer mal einen VW Käfer selbst fahren? Mit unseren Oldtimern zur Miete ist dieser Traum zum Greifen nah. Erleben Sie die pure Fahrfreude z.B. auf einer Tagestour im Käfer-Cabrio 1200 oder 1303. Ziehen Sie bei Ihrer Spritztour in unseren Miet-Käfern bewundernde Blicke auf sich! Von dieser individuellen Tagesausfahrt mit unseren Oldtimern werden Sie noch lange schwärmen.
Oldtimer als Hochzeitsauto
Für Ihre romantische Märchenhochzeit
Sie träumen davon, bei Ihrer Hochzeit in einem Oldtimer vorzufahren? Das romantische VW Käfer Cabrio ist ein ganz besonderes Brautauto. Es verleiht Ihrer Hochzeit einen Hauch Nostalgie der 50er und 70er Jahre. Stellen Sie es sich vor: Die charakteristische Motorhaube geschmückt mit Ihren Lieblingsblumen, die silbern glänzenden Spiegel und Türgriffe verziert mit Schleifen… Dieser Oldtimer strahlt als Hochzeitsauto pure Eleganz aus.
SIie wünschen sich den VW Käfer als Hochzeitsauto oder Event-Oldtimer?

Käfer Mieten

Käferfahrt verschenken
Wertgutschein für Käfer-Tagesmiete
Sie kennen jemanden, der mit dem Käfer sehr glückliche Erinnerungen verbindet? Oder ein großer Fan dieses tollen Oldtimers ist? Dann ermöglichen Sie ihm einen Tagesausflug in die Vergangenheit! Lassen Sie mit einer Käfertour einen Herzenswunsch in Erfüllung gehen und verschenken Sie einen Oldtimertag in einem VW Käfer 1200/1303 Cabrio – für einen Gesichtsausdruck, bei dem das Schenken richtig Spaß macht.
Konditionen Tagesmiete:
Already from 250€ incl. insurance secure a great day out in one of our Beetles from Munich.
The Rental Station for all Beetle Cabriolets is located in Munich. The regular rental period per day is 9 hours between 9 am - 6 pm, a return at 9 am the following day can also be arranged at short notice. Sundays and public holidays cannot be booked individually. For the deductible of the comprehensive insurance, your credit card will be provisionally charged with 500€ as security. Further details on the rental conditions can be found in the booking documents.